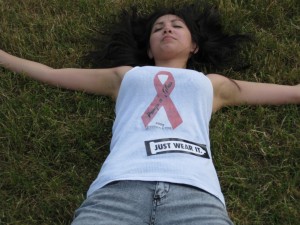 In the past, I have registered under the name Pomps n' Gloss for the annual Raleigh AIDS Walk + Ride. This year, I am going as just me, Marissa. No advertisements. No gimmicks. Just plain ol' charity fun. I love meeting the diverse group of people that walk every year. I most definitely look forward to petting the mascot of Team Llama. Usually I bring someone with me, but this year all I'm bringing is my ipod.
Last year I raised about $300, but this year I'm reaching out to all of you for support. I think my goal of $500 can be easily attained if everyone pitches in what they can. Every dollar counts, so don't feel like what you can afford isn't good enough. I'm donating my time to walk because I can't afford what I want to contribute monetarily.
I know people donate out of the goodness of their hearts, but who says I can't attach a great big thank you to your contribution? This year I'm offering an AIDS Walk 2011 Donation Giveaway. I'm raffling off a prize pack so AMAZING it will blow you away! You can watch my video below to see what you can win.
List of prizes:
Viva Glam Gaga Lipglass
Viva Glam Gaga 2 Lipglass
Viva Glam I lipstick
Viva Glam V lipstick
Viva Glam Gaga 2 lipstick
for more info on the M.A.C. AIDS Fund and M.A.C. Viva Glam products go here: http://www.macaidsfund.org/
How to enter:
Visit my donation page
Click on the "Support Marissa!" button above the thermometer.
Enter your donation info and amount.
You're done!
Rules:
Don't make an anonymous donation if you want to be entered in the Giveaway
An email address is mandatory, but I won't share it with anyone or use it for promotions