I recently organized a David Lynch swap on Craftster.org.
Here is what I sent:

Eraserhead T-Shirt & Lady in the Radiator pin:

Black Lodge themed kitchen towel:

Wild at Heart tote ("This is a snakeskin jacket…")
-my first sewn project!
& Wild at Heart Magnets:

Twin Peaks Owl Stitch markers:

Owl ring & goldstone necklace:

And Laura Palmer & Agent Cooper keychains that I didn't take pictures of.
Here is what I got: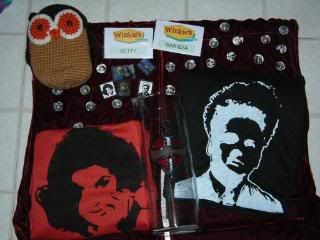 Awesome stenciled Eraserhead & Audrey (Sherilyn Fenn) shirts:

cute owl purse:

wild at heart candle vase

Hella magnets and Mulholland Drive Winkies badges!

and I saved the best for last:


"Whats behind the curtain," you ask?


This awesome painting!