Marissa Rhoades was born on a magical Winter's night in 1984. Not wasting anytime, she started working 2 jobs at 15 years old in food service and retail. Then a job offer in 2004 changed he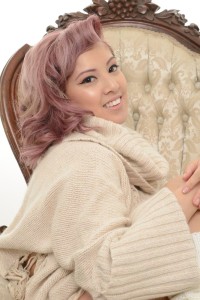 r life forever. A bit skeptical to be labeled a "makeup girl," she reluctantly accepted the position of Elizabeth Arden Counter Manager and never looked back. Since then Marissa has worked for major cosmetics lines such as Clinique, Lancome, Benefit, YSL, and M.A.C. Always looking to create things out of nothing, Marissa went on to making her own clothing, accessories, jewelry and beauty products. She loved knitting, crocheting, sewing, and gluing so much, she started selling her handmade goods online on eBay and her Etsy Shop (The Trash Can) since 2006 under the pseudonym "Kitschkween". 
Marissa's mission: To let people know it's okay to express yourself however you want. It's okay to be different, and it's okay to be the same. Just be yourself. Love yourself. Enjoy life!
Kitschkween's motto: "Like what you like and don't be sorry for it."
Thanks for stopping by!
~Marissa R